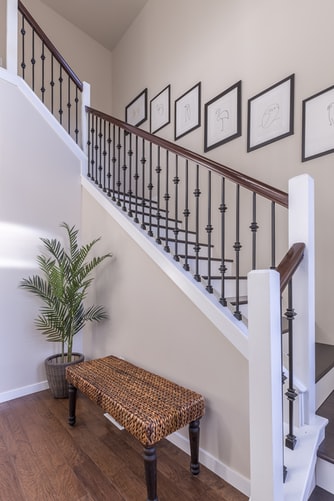 When it comes to home renovations, your stairs are probably one of the last areas of the house that you think about. Yet, they are also usually one of the first parts that guests see when they enter your house. The good news is that there are lots of fun and creative ways to upgrade your staircase, so that they not only make a good first impression but bring a smile to your face every time you go up them. Here are some of the best.
Turn the wall into a mini gallery
With all that wall space running alongside the stairs, you might as well make use of it. Whether it's family photos, your favorite artwork, or a mix of the two, by hanging up many different images in matching colored frames you can create your own gallery to be admired as you go about your day.
Install a statement stair runner
A stair runner can be a fantastic way to add a splash of color and different texture to your steps. As well as looking good, they also reduce the noise of footsteps on wooden stairs and make slippery steps easier and safer to navigate. There are many different styles available, so search stair runners UK for more inspiration.
Make use of the space beneath
Adding some storage under your stairs is a great way to use your space more efficiently. A cupboard is one option, but it can also be a good spot for some shelving or cubby holes. Whatever the size and shape of the space you have available, there will be a way to turn it into something more practical.
Consider lighting
If you have a lot of ceiling space above your stairs, it could be a good opportunity to install a statement light fixture. This can also be helpful if you don't have a window nearby for natural light. Alternatively, you could install little lights on the steps themselves for more atmospheric results.
Turn the banister into a feature
If your staircase has a handrail, be sure to factor it into your design. For example, you could paint it in bright colors to make a statement, or use an ombre effect with the color getting lighter as you climb. As another option, swap the traditional wood for something more unusual such as laser-cut steel.
Don't forget the risers
The risers – or the vertical part of your steps – are just as important as the parts that you tread on. They are another great opportunity to add a splash of color or an ombre effect to your staircase, or you can use patterned tiles or wallpaper for something more unique. You could even alternate colors step by step to be extra eye-catching.
Accessorize, accessorize, accessorize
As with everything in home design, the finishing touches on your staircase are critical. Consider little extras such as mirrors to give a sense of space, or houseplants for a healthy touch of greenery.
Just be sure not to make the steps too cluttered, or put down anything that could be a trip hazard.