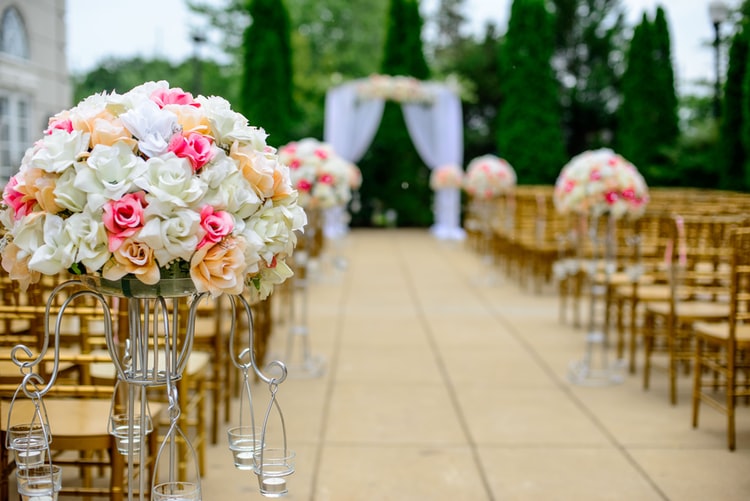 Weddings, the traditional joining of two lovers, the sweet act of pledging yourself to the love of your life, in a church or authorized venue with all your friends and family watching, smiling, maybe wiping a tear from their eyes: It's a day for celebration and love and not much else besides you and your spouse. While the historical precedent maybe clear, these days the regulations surrounding wedding ceremonies have been relaxed, so it's a celebration that can be tailored to your specific wants and desires.
The idea of a glorious traditional wedding is all well and good, but it's also a tad on the dull side, don't you think? Wouldn't you want to be different? Have a marriage ceremony that shows off your personality, your aspirations for the marriage? Something unique, just like your relationship is? What if you want something more?
Everyone has dreamed of a big white wedding at some point in their life. If that vision doesn't fit you or your future spouse's needs or wants for the marriage it might not lead to a happy marriage.
Read on for a few ideas that you may not have considered, yet! So, here is a list of things that you could do that might not fit your idea of a traditional marriage, and they're designed for the whole year round!
1 – A day out in the forest?
There's nothing more romantic than a walk in a mystical forest – apart from maybe, walking down the aisle in a mystical forest! Many forest communities love holding big events, and they would love to host your wedding. In Japan, forest-bathing is acknowledged for its health-giving properties.
It's a good relaxing beginning to a happy marriage and you can embrace the nature around you, as well as be able to participate in a few different activities to spice it up a little, like horseback riding, zip wiring, or maybe just going for a walk and a picnic. Being outside in the fresh air will also entertain any juvenile guests, and be sure to give you some gorgeous wedding photos that will be nothing but breathtaking and boast-worthy!
This kind of wedding is best suited for mid to late spring, so you can be surrounded by new life and not get too cold! That is unless you want to combine it with skiing.
2 – Somewhere different – a boat!
If you want a slightly more sophisticated feel, then a boat is the way to go! The pricing for boat wedding may not be as costly as you would think, and you can still do it in a sleek, sophisticated style!
This beautiful and posh wedding experience comes highly recommended to anyone who has a more mature family who would rather spend an evening looking over a peaceful lake or a quiet harbor. You might even go for a ride, especially if you're vacationing somewhere exotic for your big day. There are so many to choose from, such as afternoon cruises down a river on a longboat, or on a historical ship in the dockyards, or a yacht in a quiet cape or harbor.
There are so many to choose from in this section of marriage possibilities, and it's a very relaxing and beautiful alternative to a church.
This kind of wedding is suitable for late summer, so you can get the best of sunsets without it getting too hot and bothersome.
3 – Somewhere a bit more boisterous? A zoo!
So, what if you're the fun couple who also happen to be animal fanatics? Why not try getting married at a zoo! This is going to have excellent entertainment ratings for every age group – you can spend the day having excellent amounts of fun and making only the best memories, making this wedding a cut above the rest.
Many zoos do an all-inclusive wedding experience, letting you get closer to the animals and get exclusive park tours, such as safari and behind the scenes for you and those closest. And what's more, the money spent on your wedding there will not only pay for your incredible day but will also be put toward caring for and the up-keep of the beautiful and potentially endangered species that reside there.
This is a wedding best suited for mid-spring through to early autumn so you can take full advantage of the animal activity, but it really can be done throughout the year.
4 – Up for a more educational day out? A museum
So, would you love to get married in a museum. You get to be around history that shaped the world as you say your vows and start your new life around the things that interest and inspire you.
This is great if you have a family who loves to learn and enjoy maybe a more peaceful and quieter day out, so smaller numbers are suggested for a wedding like this. It's also very educational for any children who might be in your midst. It's also a very unique atmosphere to get married in, and would provide excellent opportunities for some timeless and extraordinary wedding photos that are bound to spark conversation.
This kind of wedding is ok for all times of the year, as it is a mainly indoor venue, and there is the possibility of going outside into the gardens in the summertime, too.
5 – For a beautiful location – a stately home
Now, this is the epitome of luxury! Recommended type of marriage for someone who wants to be treated like a lord and lady for the day. Surrounded by gorgeous architecture with traditional gardens, both formal and parkland, overflowing with history and exquisite furniture, this would be the perfect wedding for the whole family to attend.
It's also motivation for your guests to go all out in dressing up – Victorian style, Edwardian, or even 1920s style! You can really go back in time with this sort of wedding, so a horse-drawn carriage or a classic car to arrive and leave in would be nothing but a perfect match for this breathtaking venue.
You could go all out without really looking massively flashy, and you could thoroughly enjoy your day out. Many stately homes offer excellent afternoon tea, so they'll provide excellent hospitality, too.
This kind of wedding venue is good for all year round, although to get the best out of the formal gardens and extensive parkland some homes have to offer, planning for between the months of May to October.
So, as promised a list of types of weddings you might not have of considered in your search before. Have a look and see what's on offer, and what suits you best. It's your marriage, and it doesn't have to fit the traditional norms of a wedding – it can still be a white wedding without the church, or it doesn't have to be white at all!
The most important part of your wedding is that it symbolizes you and your bond between you and your love, so it's important to choose something that is right for you on the day.
Also, remember to keep your guests in mind – you want something that'll entertain them, so they're as enthusiastic as you are about your big day. Finding what you're looking for is hard, so I hope this list helped inspire you to go a bit more left-field for what can be the biggest day of your life.