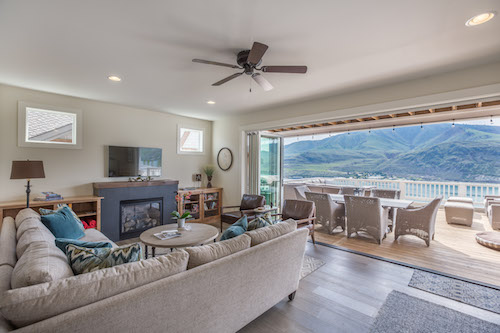 You're at a point in life where you're looking for more opportunity. You're successful and making good money. You may have a primary home that is paid off or are close to doing so. You have good credit. And real estate is an excellent addition to any investment portfolio.
Is now the time you should pull out your checkbook and invest in a vacation home?
Why might Lake Chelan real estate be worth looking at?
According to the National Association of Realtors, when people buy a second home, they do so to get away from the hustle and bustle of their city lives. Twenty-one percent look for lakefront property while 20 percent want something in the country, away from it all. They want to purchase in a more rural setting (25 percent) and have resort-like amenities (25 percent). In general, people look for a setting about 200 miles away from their primary residence.
That gives you just enough space for it to feel like a vacation, yet still close enough for you to head out of town for the weekend.
All of that fits properties here in Lake Chelan to a T.
If you're coming from the Seattle area, you're going to love the drive to Lake Chelan. As soon as you head out of town, you'll feel the stress melt away. Maybe it's in the beautiful countryside. Maybe it's the fresh air. No matter what the week held for you, it can all disappear when you enter another world—your place to play and relax.
Why buy a second home? You can use it for a variety of things.
A personal and family retreat
One of the top reasons people decide to buy a vacation home is for the chance to spend quality time with family and friends. It's a way to have a place you love; one that will allow you to create memories throughout the year. Whether it's just you and the kids, or you extend it to grandparents, cousins, and friends, your vacation home is the perfect place for quality time.
Use it as a future retirement property
Have you been coming to Lake Chelan for years with the family? Has this community always held a special place in your heart? What if you could make it a year-round home after you retire? That's how many of our permanent residents came here. They vacationed here a few years and decided to never leave.
If you're facing your empty nest years and want to put roots into a community with people just like you, it's the perfect time to look at the Lake Chelan real estate market.
Use it as an income source
Purchasing a vacation home gives you a world of opportunity. You might use it a few weekends per year. That gives you the possibility of letting others use it when you aren't there. What if you could pay your mortgage each month by renting it out to others who are discovering the wonders of Lake Chelan too? We can even point you in the right direction if this is something you desire.
Purchase in a growing community while prices are low and you can invest in a good deal
One of the biggest holdbacks people have from investing in a second home is not understanding the community. They are afraid to buy, worrying that the area they are considering won't hold its value over time.
While guarantees can never be made when it comes to real estate, it is important to note that the Lake Chelan valley has been going strong for years. It's centrally located and offers you an ideal location for whatever you are looking for. It continues to provide outdoor recreation all year through. And if you're looking for a growing art scene or be a part of the ever-increasing wine culture, Lake Chelan has a lot to offer.
Is owning a vacation home sounding even better?
Here are four questions to help you decide if a vacation home is right for you.
Does a vacation home fit with your long-term goals?
It would be difficult not to notice that real estate has been doing very well lately. The market may seem ripe with opportunity, but entering the second home market may not be the best investment for everyone.
If you're planning to retire to a second home someday, then purchasing it now and renting it out a few years may bring you even closer to your goals. If you're looking for a place to spend time with the family and have ample resources to do so, then buying a second home now may be right for you.
If you already own your primary home, you understand the investment it takes to have a home. A second home changes in that you won't be available every day to ensure the property is in its best condition. Are you up for the challenge? If so, a vacation home may be the perfect opportunity.
Have you realistically planned for the extras?
Two homes, double the costs. Many people stop their calculations at the monthly mortgage payment of the second home, especially when they see income generated from renting it out during the year. It's important to remember that you'll also have twice the unexpected events take place when you own two separate homes. New water heaters, upgrading appliances, floods from an overfilled dishwasher—all of this is possible when you own property. You should have an emergency fund set aside for both homes to keep you safe and secure.
Who will handle the care and maintenance of the second property?
Care and maintenance of any property depend on how much time you have. If you visit your vacation home every weekend, you may have the time and flexibility to handle things yourself.
But what if your home sits empty for extended periods of time? Who will check on things in your absence? Who will mow the lawn?
And if you decide to rent the property while you're away, who will handle the process? It requires a lot more than an ad on a rental site to maintain a vacation home. Like cleaning, fixing the small home repairs, and ensuring the renters stay in line.
What happens if the economy doesn't continue to rise?
This falls back to your long-term goals. If you're in it for the long term, how would a downturn in the economy impact your financial ability to care for it? Can you ride out an economic shift?
Still sold on the idea of investing in a vacation home? Then it's time to look at Lake Chelan real estate and find the perfect opportunity for you. We have the perfect way of giving you access to your dream while helping you look at your options too.