Decorating your home in a manner you find most personal and satisfying is of great importance when it comes to the positive effect of your own environment. However, it's not uncommon that people come across certain issues when it comes to decorating their bathrooms which can be on the smaller side. However, this is not the reason to give up because there are various tricks that you can use in order to make the most out of your bathroom and still have it provide you with the relaxing atmosphere even though it's small.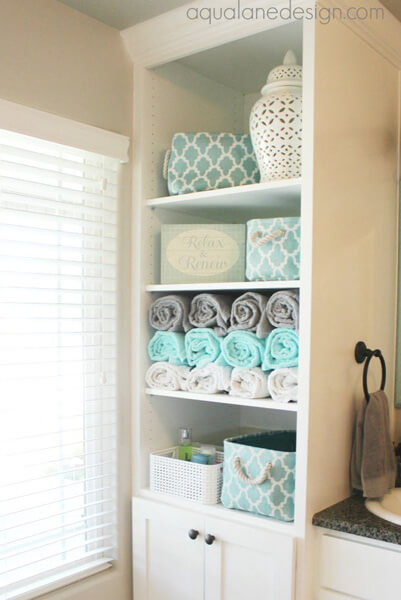 Choose your color scheme wisely
Regardless of whether you have tiles, paint or wallpaper in your bathroom, the key to creating a visually bigger space is to opt for lighter colors. In that respect, you may want to settle for shades such as white, eggshell, gray or cream in order to open up the space in your small bathroom completely. Of course, this doesn't mean that you have to give up on adding any personal touch if lighter colors don't seem too attractive to you. It's very easy to add pops of color that won't take away the space. For instance, you can use towels in bright colors, hang smaller pictures and even add pieces if self-adhesive wallpaper to create fun dynamics or, in case you have tiles, you can replace just a couple of random tiles with ones that feature some interesting patterns. If it happens that you plan to remodel your bathroom completely, try to go with tiles that are larger in size, because this will create the illusion of a bigger space as well.
Functionality before everything else
It's very important that you analyze your bathroom thoroughly so that you can determine what kind of fixtures, utilities and hardware would fit perfectly. In some cases, walk-in showers with no curtains may fit most brilliantly into your bathroom design. However, if your bathroom is really small, you may be surprised to hear that a sleek bathtub that's a bit smaller in size may actually be the best possible choice. It will also allow you to utilize the vertical space above the tub better when it comes to storage. Not to mention that window and water heater may be in the way of an efficient shower due to their position. In the end, it all depends on your needs and your bathroom design. Also, if you're planning to remodel your bathroom, think carefully about the type of sink you may want to install. There may be better options for your particular bathroom size than countertop sinks for example.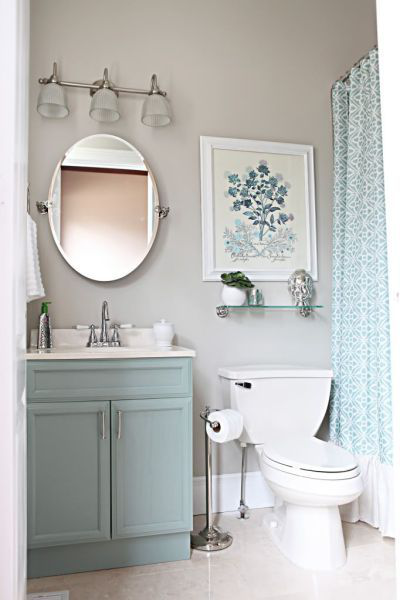 The question of storage
Continuing with different possibilities you have with sinks, it's important to note that even if you don't have an actual cabinet below the sink that doesn't mean that you can't utilize this space for storage. Simply add a basket or any other type of a container (and even a really small shelf) that would fit your decorating style the best for some extra storage. Obviously, if you don't have wall cabinets already, it's important to install some. In general, open shelving is always a better choice for smaller bathrooms because they don't feel as bulky and overwhelming like closed cabinets and shelves do. Remember, you can utilize every part of your bathroom. That said, you can even hang storage racks on your bathroom doors or get suction cup corner shelves for your toiletries.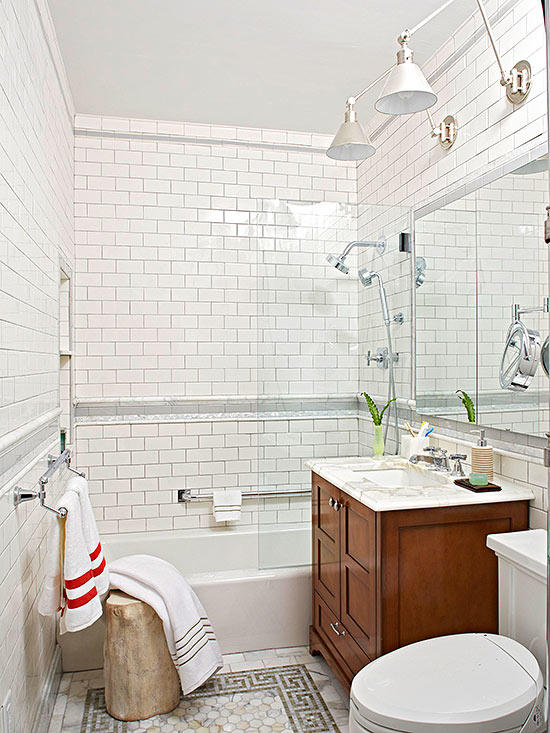 Be very careful with what you keep in your bathroom
Obviously, bathroom is a lot more than just a tub/shower, a toilet and a sink. You will obviously need to keep some other stuff here, but don't go overboard. For starters, if you don't have room for all of your towels, don't force them into your bathroom storage when you can keep most of them somewhere else. It's not that hard to change your towels from time to time by bringing them from another room, is it? Also, don't clutter your bathroom with bath and beauty products. Keep only those that you know you like and regularly use. In order to add a bit of stylishness to the bathroom, you can use mason jars for storing cotton wool and swabs, add a nice plant that can thrive in the bathroom environment, maybe a candle or two where possible and even hang some pictures on the wall, as mentioned previously, if you have enough room. Also, in case this feels like the kind of warmth and texture that would suit your bathroom decorating style, don't hesitate to make the most of the bathroom floor mat and window curtains.
Working with what you have can be very enjoyable as it allows you to use your creativity as much as possible. And, as you could see from the above-mentioned tips and tricks, there are also some budget-friendly ways to decorate your small bathroom. So, don't hesitate to make your whole home, bathroom included, as pleasant and cozy as it can be.