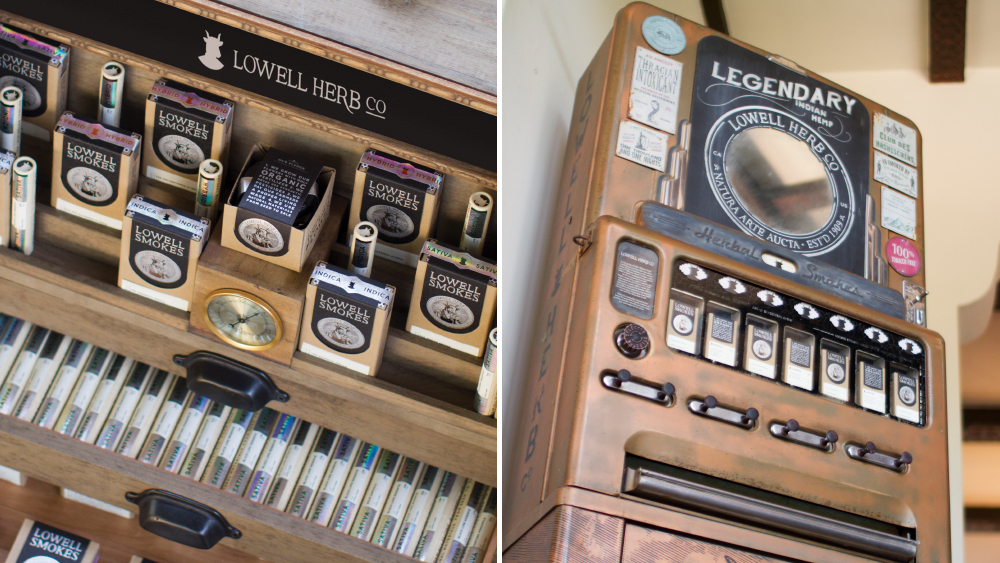 In the cannabis industry, smoking in a social setting in a cafe has long been a pipe dream for Americans. But the delight of smoking indoors in public is now a reality thanks to Lowell Farms and the Lowell Cafe. Bring to light the best bud while satisfying the need to nosh on the finest food, all while in the presence of your friends and family–in public and without fear of arrest. Marijuana Prohibition is over, folks. Let's all gather together and celebrate with plenty of fire flower and food at the first and only cannabis cafe in the Americas—Lowell Cafe in LA.
Establishment of Lowell Cafe 
The Lowell Cafe experience is about to get real. The company is opening its doors in Los Angeles in West Hollywood on North La Brea on October 1, 2019. The cafe is a farm-to-table restaurant where cannabis is also served on the menu. You can both imbibe the cannabis edibles, flower, and concentrates available from Lowell Farms, as well as bring your own cannabis products. There are separate areas where you can eat, smoke, dab, and socialize either with or without cannabis in the air.
As you plan your visit to Lowell Cafe, notice that serving times for bringing your own bud varies. The cafe has a "last call" for selling cannabis onsite is 9:50 pm. But the cafe remains open until 2 am and allows you to BYOB and smoke what you brought or preorder products to be available after "last call."
Food Fabulosity by Andrea Drummer
Along with the finest herb, the true star of Lowell Cafe is the cuisine. Le Cordon Bleu trained chef Andrea Drummer serves up seriously top shelf eats at the first cannabis restaurant in America. The concept follows that you are indulging in a full-body experience of cannabis. The farm-to-table organic dinner menu is planned around cannabis strains and their effects with dishes served accordingly throughout the evening. You aren't simply going to grab a bite and hit a bong. You are appreciating all things in gourmet cannabis and cuisine.
Lowell Farms Supplies the Finest Products
In the cannabis industry, Lowell Farms is the leading supplier of high-quality, natural marijuana. Our cannabis is always grown organically and free of pesticides. We sell the most loved pre-rolls in all of Cali. Find a favorite sativa, indica, or hybrid cannabis strains by sampling our product at the Lowell Cafe.
Jack Skellington, The Happy Hybrid, OG Chem, Hell's Fire, and Roll's Choice are some of the pre-roll varieties we offer. Lowell Farms is also available in over 350 stores statewide so you can find your fave Lowell strain and stick with it. Celebrities love our cannabis from the Cyrus sisters to Lil Wayne. You can, too, both in your finest local cannabis stores or at the Lowell Cafe in West Hollywood.
The Beginning: Bull Lowell
Lowell Farms goes way back, all the way to William "Bull" Lowell. Bull was growing Indian Hemp along the Cali central coast in 1909. Back then, the consumption of marijuana was not an acceptable social practice among certain circles. In one circle ran Henry J. Finger, a conspirator and hater who went on to pass the 1913 Poison Act.
That act only vaguely tacked on cannabis as both a "legislative blunder" and snuck in as a subsection to Section 8. However, it later led to the beloved Bull being tossed in the slammer for growing the Indian Hemp. The community of cannabis continues to respect and honor Bull Lowell's legacy by serving only the finest cannabis products at both Lowell Farms and the Lowell Farms: A Cannabis Cafe.
Join us soon or make a reservation for a visit to the first and only cannabis cafe in the US.