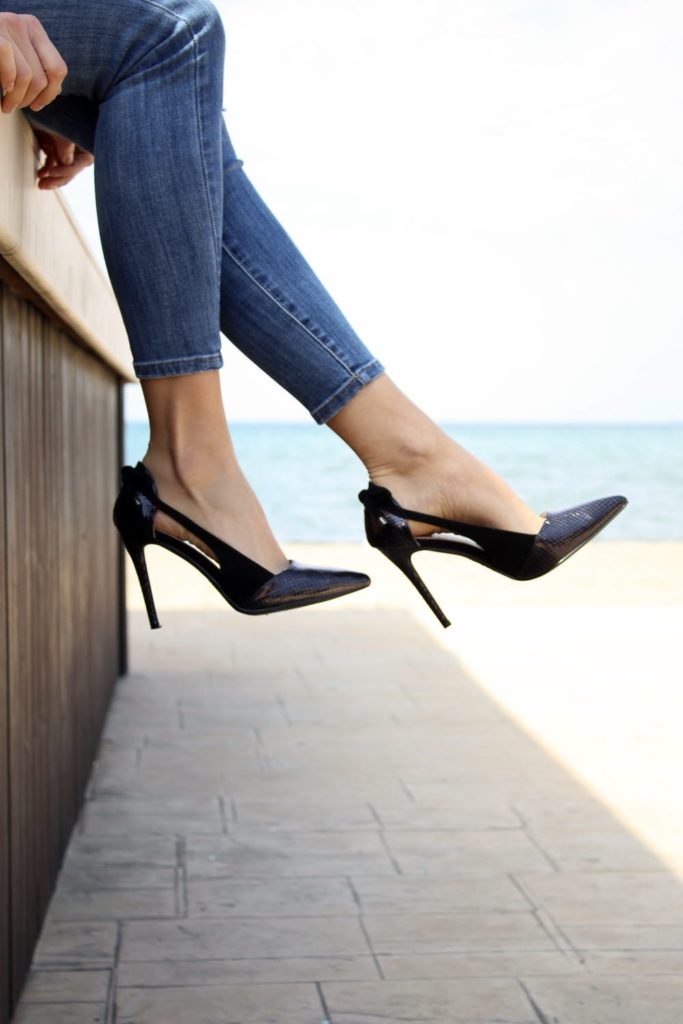 Check out the most expensive shoes of the world. This is the most legit rating of shoes of 2019. As surprising as this may sound, the most expensive shoes of the world do not include shoes for men. Luckily thanks to the diamonds that are rare, the gold and the platinum, the Debbie Wingham High Heels are the most expensive shoes that have ever existed for women. The most expensive shoes for men are Tom Ford Custom by Jason Arasheben, which are strewn with diamond completely. The materials used are exceptionally expensive. These shoe brands are made with a lot of effort, multiplied by several hours of hand work.
Those days where shoes were worn to provide protection to the feet are gone. They have become an essential part of a person's closet and along with that, it is a fashion necessity as well. These shoes are made using a variety of products and cost between the range of a few hundreds to a few thousand dollars.
AUBERCY DIAMOND SHOES – $4,510
The clients of Aubercy have always been loyal to the brand ever since it launched in 1935. Their most sought item is the diamond studded evening pair.
LOUIS VITTO MANHATTAN RICHELIEU MEN'S SHOES – $10,000
Louis Vitto is considered as the epitome of luxury when it comes to the world of fashion. The product delivers are detailed, showing vintage style and craftsmanship of the shoes. The shoe has complex stitch patterns and is made out of waxed alligator skin.
NIKE AIR MAG 2016 – $26,000
If you love sneakers, you should consider getting a pair of these. These sneakers are powered by battery and feature a motor as well. Moreover, these shoes are very rare and only hundred were manufactured by the brand.
TESTONI MEN'S DRESS SHOES – $30,000
These dress shoes for men are finely made using Italian craftsmanship, making the footwear be of a very high value in the market. Moreover, these shoes are very light in weight and wear resistant as well.
TESTONI SHOES – $38,000
These shoes appear stunning on every man, no matter what his personality is like and they should consider getting a pair of these. The brand justifies the price because it is made using an innovative Norvegese technique. Moreover, the leather used to make these shoes is the best alligator leather.
NIKE SO CAL AIR FORCE 1 SUPREME MAX – $50,000
Every dude has a fantasy of owning these shoes since they have launched. Taking this to another step, the durability of this footwear has increased drastically. While the upper part of the shoes is made using good quality leather, the bottom is made using a reflective 3M material. Other than that, the neon laces add a nice touch to it.
AIR JORDAN SILVER SHOES – $60,000
Since the time these shoes have been launched, Air Jordans have been the envy for every shoe enthusiast. These shoes have been signed by the legend Michael Jordan himself. Other than that, they are comfortable to wear, which is something that isn't a feature of most of the shoes on the list.
NIZAM SIKANDAR JAH'S SHOES – $160,000
These shoes were once in the possession f the Nizam of Hyderabad, Sikander Jah. The design of these shoes is delicate and very complex, something that is hardly ever seen or has been witnessed before. The shoe features multiple rubies, diamonds, and emeralds, and have been made using different threads for the embroidery.
KATHRYN WILSON'S PUMP – $400,000
Kathryn ruled the fashion headlines when she made these shoes for an auction leading to a good cause. Each pair took approximately fifty hours to create, featuring diamonds worth a million pounds.
STUART WEITZMAN DIAMOND DREAM STILETTOS – $500,000
These dream stilettos are made using fifteen-hundred pieces of diamond, worth thirty karats each, earning attention globally.
STUART WEITZMAN "MARILYN MONROE" SHOES – $1 MILLION
These shoes were created using crystals personally used by Marilyn. It took a lot of effort to create this tremendously gorgeous pair.
STUART WEITZMAN RETRO ROSE PUMPS – $1 MILLION
These gorgeous retro heels have a signature T strap, which was very common in that era. The toe portion of the heel features rose ornaments and diamonds having a total weight of hundred carats.
STUART WEITZMAN PLATINUM GUILD STILETTOS – $1.09 MILLION
These shoes are a perfect example of a shoe maker's wet dream.
STUART WEITZMAN WIZARD OF OZ RUBY STILETTOS – $1.6 MILLION
These eye-catching shoes are used making 123 karat rubies. A total of 643 pieces were used altogether and set on a pound of platinum, which is the most rare metal on the planet.
TOM FORD CUSTOM BY JASON ARASHEBEN – $2 MILLION
These Tom Ford shoes were designed by jewelry designer Jason Arashben, and they were literally a scene to behold. More than 14,000 diamonds were set onto white gold, which took a year to complete.making it totally worth the price.